If you've landed here, hello! You've come to the web page for Profanities, Ken Waldman's long-imagined CD project.
Monday, Tuesday, and Thursday, May 15, 16, 18, 2022, amid the Fairbanks swing of his Now Entering Alaska Time book release tour, Ken journeyed to Pat Fitzgerald's and Robin Dale Ford's 10th Planet Studios. There, solo, he recorded the tunes listed below, and read poems. All the tracks included at least one profanity, meaning none of these were ever going to get played on radio. What was the point? What's ever the point? Some of these poems had been previously published in Ken's books. Some he found going back and finding in out-of-the-way places. In a few instances he added a profane word or two to include a poem he wanted to document here. In one, he added exactly 26 words.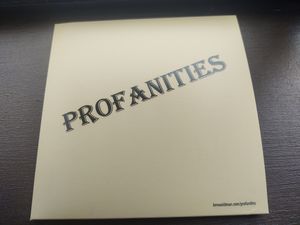 For the fiddle tunes, with one exception--10th Planet Breakdown, an original tune on Ken's 55 Tunes, 5 Poems CD--these are tunes Ken Waldman had not previously recorded but occasionally will play, or used to play. Some of these, Ken hadn't played in years, or maybe hadn't ever played, but had just heard enough or remembered enough so he could come up with something simple and rough that could serve the poetry. And then there's the Dear Butte Waltz, which Ken composed in January 2022 in Butte, Montana. Butte, that's Aaron Parrett's kind of town. With Aaron's permission, Ken used the tune as backdrop to read Aaron's book, Curses, a perfect addition to the project.
The Tunes                                           
Squirrel Hunters
Seneca Square Dance
McGee's Reel
Wolves a Howling
Fiddler a Dram
10th Planet Breakdown
Buck Mountain
Hunting the Buffalo
Salt Creek
Hangman's Reel
Folding Down the Sheets
Jenny Ran Away in the Mud in the Night
Run Down Boot
California Blues
Wild Hog in the Woods
Possum on a Rail
Needlecase
Dear Butte Waltz

The Poems
Some poems on the CD stand alone. Some are medleys within a tune.
A few are unaccompanied. Here's one of the poems. Profane? Yes!
(And Ken enjoyed sharing this one at Edmonton Fringe.)

A Canadian
I hate his guts. I'm having a nice time
this evening, so please drop the damn subject.
I don't want to hear the name. A perfect
criminal—that's what he is. Just one crime
after another. How I wish he'd climb
into a rocket and take off to the next
planet. Yeah, give him Mars. He can erect
his fancy hotels, take every last dime
from the goddamn Martians. Barmaid, a shot
of whiskey! I want that fuck off my mind.
I'm out tonight to listen to music,
not that horseshit asshole's name. Oh, you've got
some nerve ruining my day. Please go find
someone else to piss off. Trump is a dick.

This was originally published in Trump Sonnets, Volume 3,
The International Edition (2019, Ridgeway Press), and the
poem also appears on the 2022 CD, Profanities. Late 2018,
Ken Waldman ran into a noted Canadian musician in
Austin TX, and while this isn't an exact transcription, it
captures the tenor of the conversation. (About Ken
Waldman's Trump Sonnets series, so far he's written eight
books and over 600 sonnets about the former US president—
and is working on the ninth.)