NYC and elsewhere

If you found your way here, Ken Waldman must have reached out, or somehow you found a link. What a year it's been. No, wait, what an almost three years. Here's a poem Ken put on a card this past summer (and below, at the bottom, another card, with the poem referenced above, from the March 2022 show at Pitt-Bradford--the lines above are from an endorsement letter written by the recently retired theater manager there, Patty Colosimo, a frequent attendee of Ken's roots music showcase evening).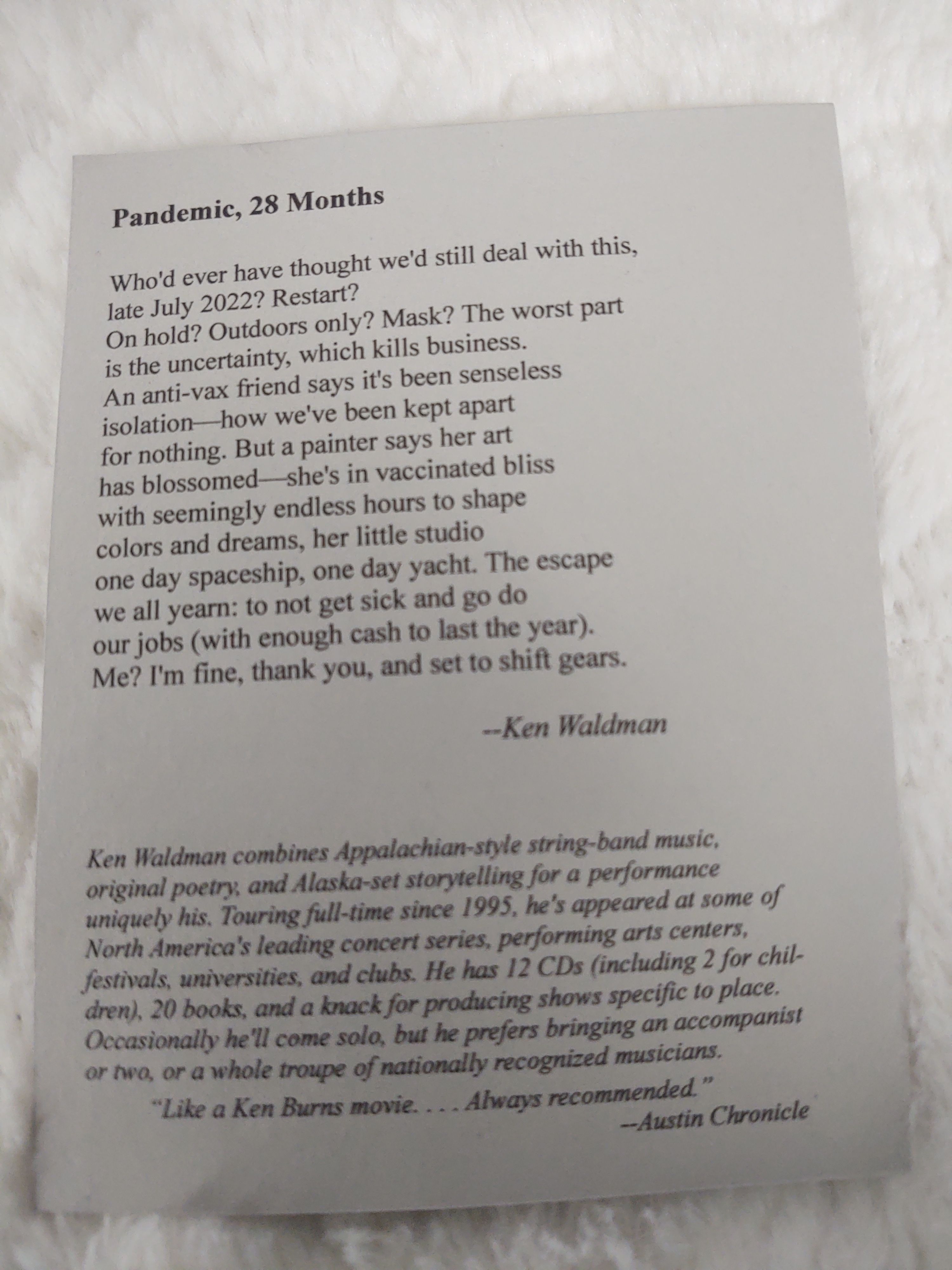 So, yes, that's Ken. He's fine, and shifting gears--and preparing for what's next. So what's up? Mid-December, he just completed two good weeks working in and around Alamogordo NM and Moab, UT. January, he's co-producing with Danielle Devlin of Canis Major Music, a Friday, January 13 APAP showcase, 9:30 p.m.-midnight.
The venue: Don't Tell Mama, 343 W. 46th, an easy walk from the Hilton, the conference hotel. It's 46th St. between 8th and 9th Avenue. We're in a back cabaret room, the same space Ken has used for a decade of producing APAP showcase evenings. It seats 80, and like recent years we'll be full. Reservations are strongly recommended. There's a two-drink minimum, our dime, Ken and Danielle's treat for conference attendees. There's also an event before ours, so we expect doors at 9:00 or 9:15--we'll get in when the prior event is cleared. But if you arrive early to grab a meal, or a drink in another of the rooms, it's a cash-only establishment.
The schedule:
9:30-10:00--a 2- to 3-minute intro piece by all participants--no set order who'll go when, but it'll all go by quick
                     (this is so you all get a quick peek of everybody before we get to the main showcases)
10:00-10:10: your co-host, Ken Waldman, with ace Brooklyn banjo player, Ilan Moss, and probably others
10:10-10:25: sea shanty genius, and multi-instrumentalist, Sean Dagher, from Montreal
10:25-10:40: singer/songwriter/guitar virtuoso, Jefferson Hamer, joined by bassist Rob Jost
10:40-10:55: the fabulous Jason Anick Acoustic Trio down from Boston
10:55-11:10: NYC chanteuse for all seasons, Tamar Korn and a Kornucopia; expect guitar accompaniment
11:10-11:25: master kora player, Yacouba Sissoko, based in NYC by way of Mali
11:25-11:40: Bad Penny Pleasuremakers, novelty and mischief up from New Orleans (Update: Matt & Joy unfortunately had to cancel, but we've got the extraordinary Caitlin Warbelow & Chris Ranney, recently from the acclaimed Broadway production of Come From Away)
11:40-11:55: absolutely one-of-a-kind Canadian singer and flamenco dancer, Tamar Ilana, here as a duo
11:55: Ken Waldman finale for a few minutes to wrap it all up
If you want a taste of what this showcase evening was like in one of the pre-pandemic years, this will make you happy: https://youtu.be/TSpXx48lvTA. 
Come by on January 13, and you'll be happy right there in person!
Questions? Reservations? Ken Waldman, ken@kenwaldman.com
Beyond APAP, Ken will be spending a late January week in Slidell LA. Early February, he'll be at Folk Alliance in Kansas City, and then driving west to March gigs in Portland, Longview, Tacoma, and more. April includes gigs in Indiana, West Virginia, and Texas. May, June, July, August: he could be anywhere. December 2023, he's really looking forward to a whole month in downtown Fairhope, AL, in residence at the Wolff Cottage. He's got writing to get to.
Really, almost anything might happen with Ken, since he's been having so much fun with the Now Entering Alaska Time novel, which is here, and the Trump Sonnets series, which is here. More books, more CDs, and lots more gigs are on the horizon. And, yes, if you bring him to your community, he might write a poem like this one he wrote for Pitt-Bradford, in McKean County: